South Of The Border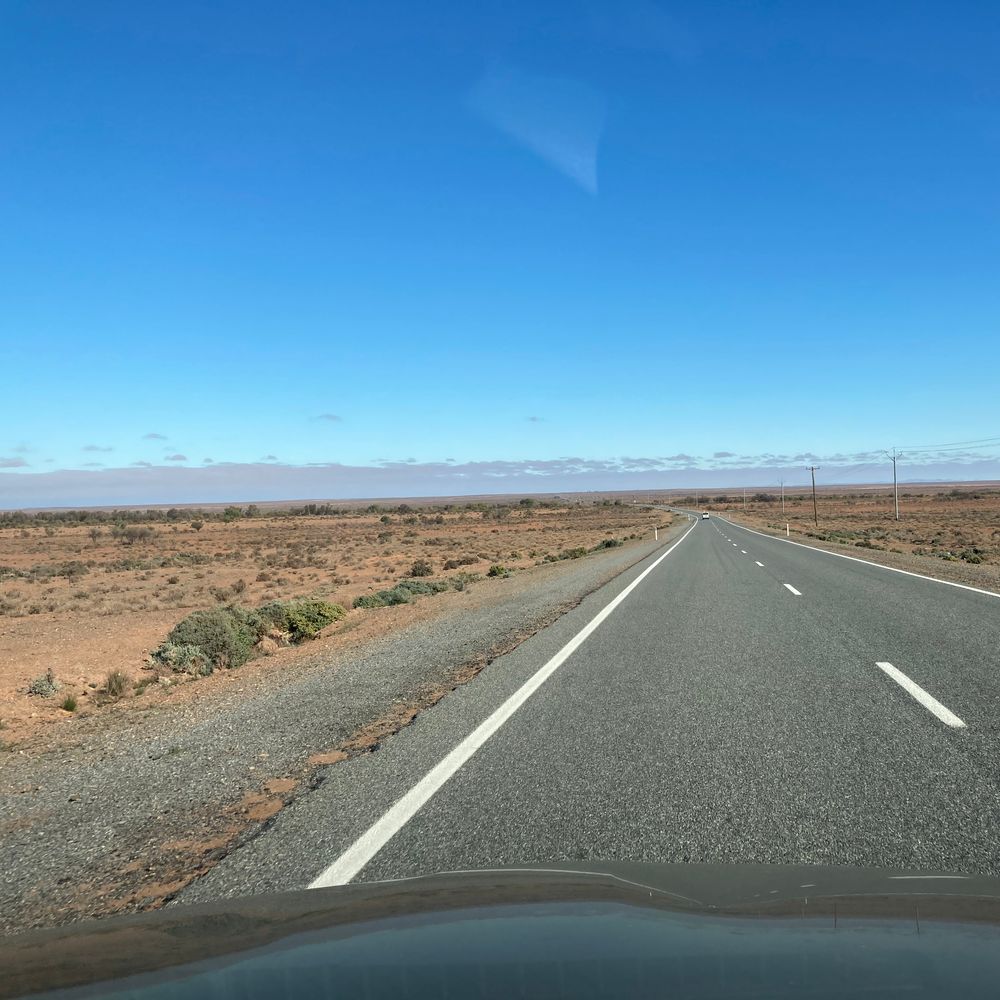 The Everyday Rollercoaster of Life
Copyright Kristine Best 2021
- South of The Border - Part 2 of More To Come (The Recent Past and The Long Gone Past)
Feeling better now that my car had a full tank of fuel, I headed out of Broken Hill for the second time. I was annoyed with myself for having wasted 100km of fuel and an hour of time. After 5 or 10 minutes of berating myself for being so stupid, I settled into cruising down the highway, doing 95, well maybe a little faster. It didn't take long and I was back at Cockburn so I had to reduce speed through town.  Being back here prodded my conscience and prolonged my pain as I relived my fuel fiasco.

Thankful that Cockburn was behind me, and that I'd crossed into South Australia, I could concentrate on better things. The radio signal had been intermittent and annoying so I amused myself by wondering why people would live in such an isolated and rather desolate place, where there was no water in the creeks, and just red dirt and runty shrubs as far as the eye could see. I did see two goats and I decided that they would be about the only thing that could survive out there.

The further south of the border I drove, the more the landscape change. There were now lots of trees. One hundred and twenty kilometres into South Australia, I reached the border quarantine station. While I was waiting, I read some signs and the booklets the quarantine officer had handed to me to read while he attended to another veicle ahead of me. I had a sinking feeling that my crisp, juicy red capsicums I'd brought with me, might not be allowed into the state. I got out of the car, rifled around in my esky, grabbed a capsicum, got back in the car and scoffed the whole thing down. The officer came to my window and asked what food I had. I showed him what was in my esky. He spied the capsicums and confiscated them. Just another negative thing to happen on my trip. Fruit fly was the furthest thing from my mind when set out on my trip, but at least my potatoes and onions were safe. I answered all the COVID questions and provided details of where I would spend my isolation. The officer processed the information and then gave me official approval to enter South Australia. I was in! Yes! I'd get to my son's wedding.

I tried not to think about my capsicums as I drove off. The landscape began to open up into lush green countryside with grazing animals and quaint country towns. Pleasant scenery cruised by. Adelaide was still a few hours away, and after 18 hours on the road, I was starting to feel a little tired. My phone rang. It was my son, Alex. He wanted to know if I needed anything. He also reminded me that I had to get my COVID test in Adelaide before heading to Carrickalinga where I would isolate. We made arrangements to meet at the Vogue Theatre in Kingswood where he would give me bread, milk, meat and fresh vegetables, including some red capsicums. Then, from Kingswood, it wasn't far to the Flinders Medical Centre COVID clinic in Bedford Park where I'd get my test.

I pulled into the Vogue car park and waited for Alex. Five munites passed by, ten minutes, twelve, then fifteen minutes. I phoned him. He was stuck in evening traffic. He arrived about 15 minutes later. It felt so good to see Alex after a long nine months, but I couldn't get out of the car and I couldn't hug him. I enjoyed chatting with him but it was awful not being able to hug him. Yes, I had to abide by COVID-19 rules, but I knew I was COVID negative. I felt sad. It was like an unjust punishment. As Alex pushed a box of food supplies through my window, he promised to visit me while I was in isolation at Carrickalinga. We said good bye.

I typed the clinic address into my GPS and headed off as dusk was setting in. As I neared Bedford Park, it was dark. My GPS was telling me to turn where there was no thoroughfare. Oh that's just dandy!  I could see that road works had been done and were still in progress. Ahead of me was what looked like an expressway and no exit roads that I could see. I took the exit right next to me and circled around several blocks to try another approach looking for an exit or a sign that might help me go in the right direction. I knew roughly where I had to go but couldn't find the way there. I was tired now and knew I had another hour's drive to Carrickalinga and I still hadn't had my COVID test. I had to get to the clinic very soon because I knew they closed at 8 and and when I phoned them earlier, they told me they were busy and I had to be there by 7pm. I was driving slowly and cars were coming up behind me. Suddenly I was looking at the expressway again so I turned off. I was starting to feel annoyed, frustrated and stressed so I pulled over and parked for a minute to calm down and consult with my GPS again. 

Time was running out. Will I try a third time? I need to get my test so I'll have to. I circled back around to a third time. I turned off on a different road and could see police car lights were flashing behing me. Whoop whoop went the siren. Well that's all I need! Now I was even more frustrated, stressed and now I was also feeling upset. I pulled over dreading what I'd done wrong and expecting that I'd be booked. The policeman came to my window. He was tall. It made me feel intimidated and a whole lot of negative things started flashing through my mind - I'll be booked; how much will the fine be; I've got no money; I won't be able to afford it; it's going to ruin what should have been a wonderful trip. Tears welled up in my eyes. I was feeling sorry for myself. I looked at the policeman's name badge but I didn't really take in his name. I couldn't read it properly through the teary blur. He said, "Do you realise you just sped through two 40 zones?" With tears now starting to roll down my face, and without stopping for a breath, my words rolled out "I didn't even see the 40 signs, because I was looking for signs to the COVID clinic and this is the third time I've driven around in circles trying to find it because I don't know where I am and neither does my GPS and I need to get there to get my COVID test so I can get to my son's wedding and I need to get there before 7pm." The policman paused for a moment, then agreed that the road works had changed road conditions but pointed out that the clinic stayed open until 8pm. I explained that I'd phoned them and as they were busy i was told to get there before 7pm. He went to his car and I thought, well that's it, he's going to book me. I slumped into my seat with glum and fateful resignation. A minute or two later he came back and said, "I'm going to take you to the clinic. Follow me." I was gob-smacked!

I followed the policeman. It was a complicated route, turning right and left through several streets, and up a hill. Then we turned right into a small roadside parking bay, did a u-turn and went back out onto the road and back down the hill. I thought, "Well! My GPS would never have thought of doing that!" And still we drove on. Then we turned left, and after a few hundred metres, hooked around to the right. I thought, "No wonder I was having trouble finding my way." We drove a bit further and then he pulled over. I stopped behind him. I could see the medical centre and COVID clinic signs and the parking area where I had to park. The policeman bent down to my open window and said to me, "Just a moment." He strutted purposefully out into the one-way street, put his hand out and stopped the traffic. Then he waved me safely across the road and into the medical centre driveway. "Thank you", I said in a kind of stunned numb way and drove towards the clinic parking station. 

As I parked the car and walked up to the clinic, I was thinking how blessed I was to get such a compassionate and understanding policeman. How often does something so amazing as that happen? I was certainly grateful although, I felt rather washed out from the emotional rollercoaster ride I'd just been on, not just from this night, but from the 22-hour drive, the previous days of preparation, and from the COVID upsets of the last few weeks.