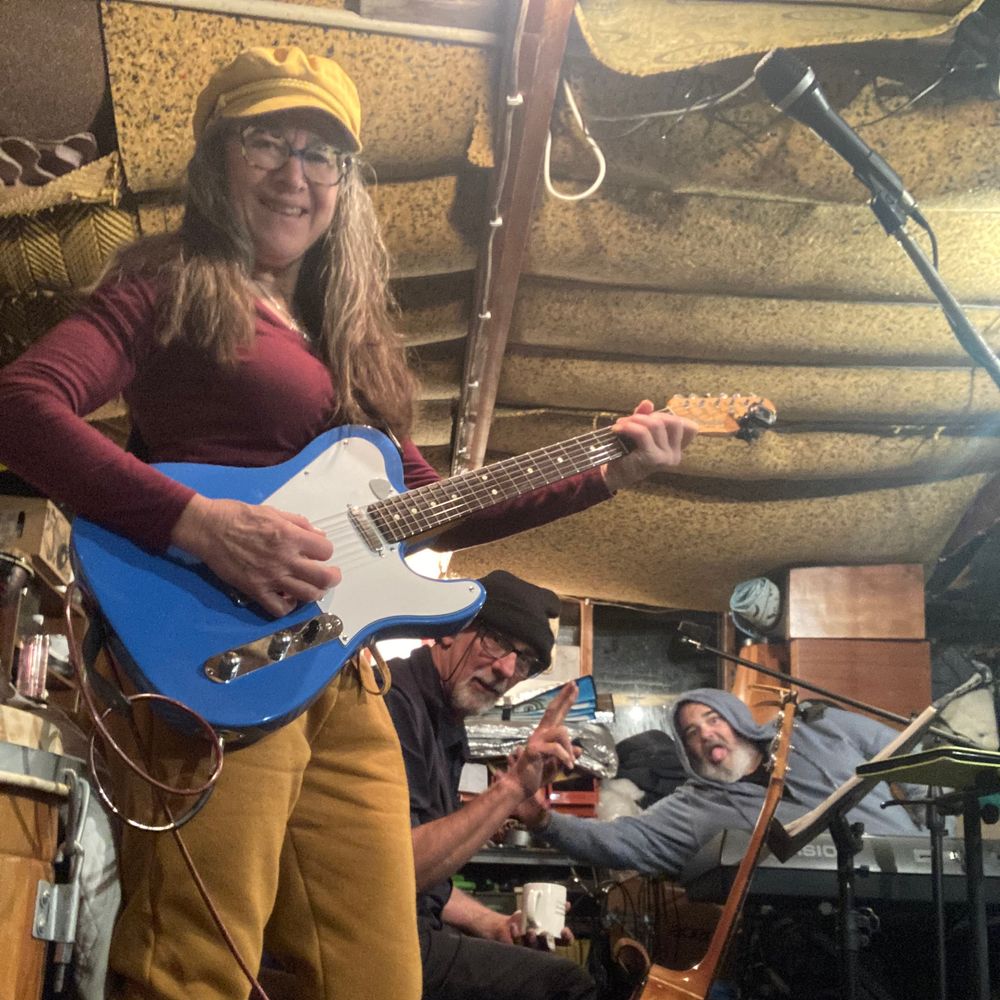 Kristine's Detailed Bio
Loving the Music Journey
When Kristine Best dipped her toe in the "waters" of the music industry at the age of 62 in December 2016, she was unaware of the industry's vastness. Perhaps that was a good thing as it might have deterred her from her quest to become a songwriter. Then again, it might not have made any difference as she is focused, tenacious, determined and hard-working.

Kristine is also talented, however, knowing that talent alone was not enough to succeed, she devised a plan and began implementing it so she could work towards her goals. Over the last few years Kristine bought recording software, learned how to record track-by-track, made a demo CD of her original songs and began performing at open mics to promote her work, initially playing her ukulele. She also began playing percussion to support other artists and later started playing guitar instead of ukulele. It was a steep learning curve but Kristine has the resolve to pursue her dreams and love of music and playing various instruments. Kristine loves to play with other musicians so that she enhances the music to benefit the overall sound and feel and meld with the band.

Kristine's songs, are usually about real life. Even although some songs may be about sad or difficult issues, Kristine incorporates positive elements to empower the listener. There are positive take-aways in her lyrics and she invites the listener to an experience ... to feel the emotion and message in her songs. She gives the listener space to dip into their own thoughts and experiences, making it more personal for them. 

Kristine's greatest challenge was how to stop being a jittery wreck when performing solo.  "Performing in a group is easy," she says, "but when it's just you on stage, you are baring your soul to each person in the audience and all their eyes are on you! It was daunting." Initially, Kristine did not set out to be a performer, although, it had long been a secret desire, but in the process of promoting her songs, Kristine has been improving as a performing artist, enjoying every moment.

When she is not writing songs, jamming, performing or practicing music, Kristine loves to walk to keep fit, to cook bread and make healthy meals, and spend time with her family and friends. Chilling out at the local café or enjoying a chat over coffee is an enjoyable treat. Chocolate is a rather nice treat too. Every now and then, Kristine likes to watch a movie or eat out at a Thai restaurant. 
Kristine is a life-long learner. She likes to seek out information on topics that interest her or will add to her professional development, and then, later on pass that information on to others when needed or where appropriate. Following school education, Kristine has studied at college, advanced college, and university and continues undertaking and completing relevant online courses in topics such as critical thinking, mindsets, positive thinking, leadership and goal setting. She is engaging in nurturing the future of her career, her life and the lives of others.
Wearing cool, classy, trendy, funky, even quirky clothes to suit her tastes, means that Kristine likes being different and embraces her individuality. Oh and she is crazy about hats ... and has one for every outfit!

Kristine's achievements since starting her music journey in December 2016 are:
1. attended at Toyota Country Music Festival Tamworth 2019 and 2020 
2. finalist in Tamworth Songwriters Association Talent Quest 2019 
3. finalist in the fRETfEST Regional Songwriting Contest 2019 and 2020
4. Radio Presenter for Today's Country 94 One, leaving that job to concentrate on her music career
5. percussionist in an acoustic group of 4 people and later in a full band of 6 members.
6. percussionist in a trio playing at Lizotte's in Newcastle, NSW
7. qualified Mental Health First Aider
8. has played at several fundraising events to help farmers, fire victims 
9. recently Kristine did Dame Olivia Newton-John's Walk For Wellness to help raise funds and awareness for holistic therapies and treatments for cancer sufferers 
10. collaboration with Nelly B, rising Nigerian artist - Kristine is a feature artist and represents Australia on Nelly B's album, "BIGGER THAN THE HEADMASTER". It's a record breaker, history-making album of 20 feature artists from 20 different countries. Amazing project to be on! Album release date: 11 January 2023.
11. Kristine has finished writing an album of inspirational and empowering songs and will soon record and empower you. Get ready for your "Trip Of A Lifetime". 

In addition to the music side of things, Kristine has invested considerable time developing an online presence. Her links are available at:
Linktree: https://linktr.ee/KristineBestMusic  

With each new advancement in her songwriting repertoire or performance opportunity, Kristine posts it on her social media sites. 
Kristine has written an album of inspirational, empowering and soul-healing songs. Stay tuned for its release in the new year.
In the meantime ...
⦁    Life! Be in it!
⦁    Be what you want the world to be!
⦁    Follow your heart's desire and ignore negative dialogue!